The cryptocurrency arena is expectant with optimism as the bull run is imminent around the corner. Ethereum and Bitcoin Spark (BTCS) rank highly as prominent players, sparking enthusiasm and anticipation of high-potential digital assets. ETH excites with its strong market presence, whereas BTCS thrives with its unique features hinting at a promising future.
As the crypto sphere evolves, exploring speculations and insights into the potential bull run of Ethereum and Bitcoin Spark becomes essential for those seeking opportunities in the dynamic, fast-paced world.
Ethereum Price Outlook
Ethereum's success can be attributed to its versatile nature, allowing developers to create multiple applications and smart contracts on its blockchain. Its decentralized and open-source nature has fostered a vibrant ecosystem of developers and projects, contributing to its continued growth and influence within the crypto space. The recent Ethereum merge transitioned ETH to a full Proof-of-Stake mechanism, dropping Proof-of-Work.
The ETH platform endorsed PoS as a sustainable, cost-effective, and energy-efficient alternative to PoW, aligning well with the evolving needs and values of the blockchain and ETH cryptocurrency community. As it continues to evolve and adapt to changing technological landscapes, Ethereum remains a cornerstone of blockchain technology, continually shaping the future of decentralized applications, DeFi, NFTs, and digital transactions.
However, the real fruits of the merger are yet to surface as the Ethereum price stagnates. Nevertheless, Ethereum ushered October on a high, reaching above $1,700.
Bitcoin Spark (BTCS)
At the heart of BTCS is the Proof of Process (PoP) mechanism, a pivotal element that governs the platform's operations. PoP streamlines stake (PoS) and work done (PoW) and introduces a unique concept where individuals can rent processing power within a virtual environment.
This rental system expands the network's computational capabilities, ensuring that various tasks and transactions can be efficiently processed. However, it's important to note that the operation of rented devices is designed to have limited access to other device functionalities, preserving security and preventing potential misuse.
Anyone can participate effortlessly using a computer or smartphone, and with the user-friendly Bitcoin Spark mining application, costly equipment, and technical expertise are no longer barriers. Miners can quickly dive into BTCS mining and commence their journey with the option of renting additional power from the network through the application, significantly enhancing their mining capacity and subsequently maximizing their rewards. Collaboration is encouraged within the Bitcoin Spark community.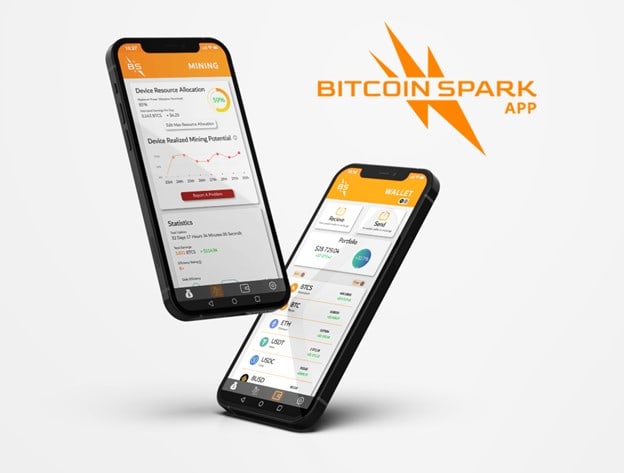 Miners can join a global network of BTCS enthusiasts, pooling their processing power for more efficient mining and larger collective rewards. Overcoming processing limitations becomes achievable, enabling miners to optimize their earnings seamlessly. Alternatively, they can establish their mining pool, further promoting a sense of community and mutual benefit.
Bitcoin Spark employs a multi-layered system with features like GPU rental, in-app advertising, and a non-linear reward mechanism to empower users with accessible mining devices. The project prioritizes accessibility and innovation, aiming to create a user-friendly experience for investors within the cryptocurrency arena.
BTCS has subjected its infrastructure to several smart contracts audits and KYC certifications to guarantee a compliant, stable, secure, and transparent platform. Its running ICO in phase seven has received enormous uptake as investors diversifying across chains move in their funds. One BTCS is priced at $3, with an 8% bonus.
By combining unique features, BTCS positions itself as a promising platform in the crypto arena, promising a future where mining is more inclusive and transactions are handled with enhanced efficiency and security.
More on BTCS and ICO here:
Website: https://bitcoinspark.org/
Visit BTCS Presale: https://network.bitcoinspark.org/register
Disclaimer: The above article is sponsored content; it's written by a third party. CryptoPotato doesn't endorse or assume responsibility for the content, advertising, products, quality, accuracy, or other materials on this page. Nothing in it should be construed as financial advice. Readers are strongly advised to verify the information independently and carefully before engaging with any company or project mentioned and do their own research. Investing in cryptocurrencies carries a risk of capital loss, and readers are also advised to consult a professional before making any decisions that may or may not be based on the above-sponsored content.
Readers are also advised to read CryptoPotato's full disclaimer.
The post Bull Run Speculations: Ethereum And Bitcoin Spark Two High-Potential Cryptocurrencies appeared first on CryptoPotato.
SET UP ALERTS: Sign up for early email alerts on the top news and ICOs.
Link to source