Despite the recent regulatory crackdown on cryptocurrencies in the United States and the United Kingdom, Polygon (MATIC) and Bitcoin Spark (BTCS) prices are gearing up for a potential surge. MATIC and BTCS prices have shown resilience and promising trends, indicating that they might weather the storm of regulatory scrutiny.
Bitcoin Spark (BTCS)
BTCS is an exciting blockchain technology project, forking out of the original Bitcoin with solutions to prevalent BTC challenges. BTCS leverages Proof-of-Process (PoP), powered through the Bitcoin Spark application, to enable a sustainable and profitable mining experience, incorporating smart contracts and revenue generation mechanisms to enhance its ecosystem. The PoP approach taps into the immense potential of computational capabilities that mining devices possess, opening up a world of possibilities. It optimizes the utilization of mining devices and creates a more inclusive and collaborative mining community. The BTCS project includes a specialized Bitcoin Spark mining application, which serves as the entry point to the BTCS ecosystem. Unlike traditional mining, which requires expensive hardware and technical expertise, the mining application enables users to mine BTCS using their existing desktops or smartphones, making mining more accessible to a broader audience.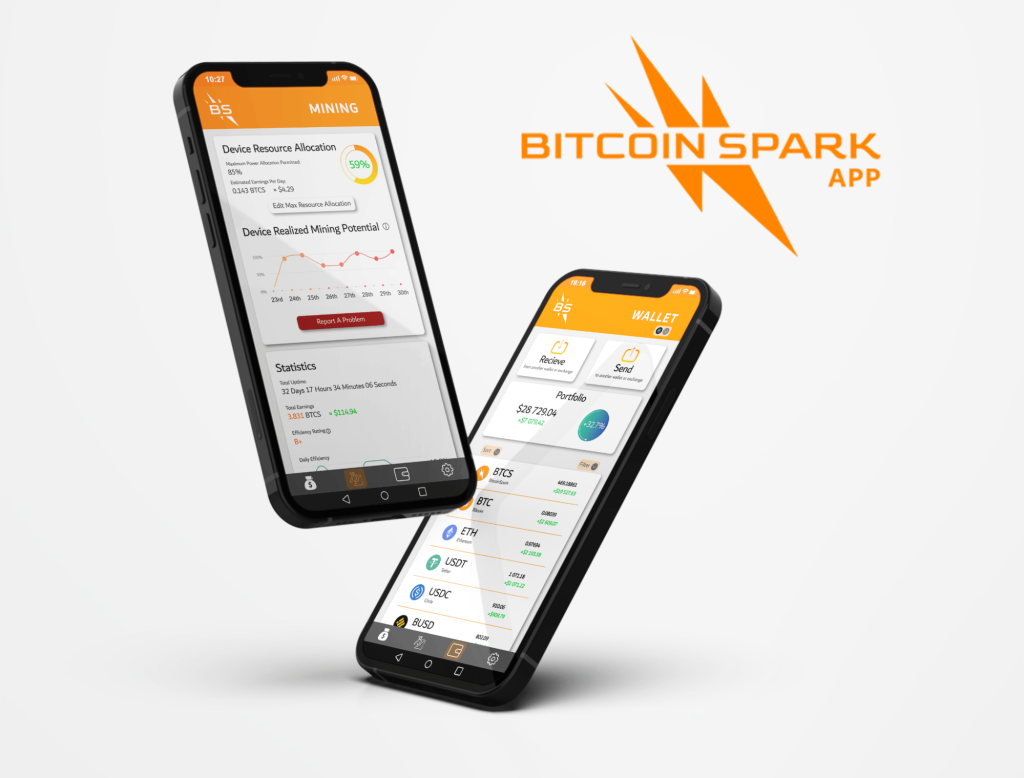 Bitcoin Spark network encourages validators. Unlike networks that use substantial energy for transactions, Bitcoin Spark is efficient, allowing low-power devices to run it. As such, more validators can join, improving security without overwhelming the network. Any device can provide processing power, enhancing the product potential and blockchain security. All this will happen through the Bitcoin Spark application, which will later be open source for third-party development.
The project emphasizes revenue diversification and self-sustainability within the mining experience. It will incorporate rental options and advertising for users to maximize their mining rewards and create new revenue streams. The mining application is user-friendly and compatible with various operating systems. Bitcoin Spark is multi-layered, which brings a new dimension to the traditional blockchain structure. By incorporating multiple layers, Bitcoin Spark enhances security, scalability, and functionality, making it an attractive choice for miners and investors. Each layer serves a specific purpose and contributes to the overall efficiency and effectiveness of the network, reinforcing the foundation of a robust and sustainable cryptocurrency ecosystem. The layers are execution, consensus, mining, and rewards layers.
BTCS plans to release its Github for third-party developers shortly after the mainnet launch, fostering collaboration and innovation within the community. BTCS has audited its platform via ContractWolf audit and Cognitos KYC for regulation and transparency purposes,
BTCS Price Prediction
Bitcoin Spark has a running ICO that debuted the BTCS token at $1.50 in phase one. Barely two months, the phases have sold out fast, and the value has risen to $2.75 in phase six, with an 8% bonus on top. BTCS price prediction forecasts a launch price of $10 on November 30, upon which early investors who invested in phase one can realize up to 800 % ROI. Phase six investors expect an ROI of 393% and attract diverse investors moving out of established projects.
MATIC Price Prediction
Polygon (MATIC) is a popular blockchain scaling solution striving to address the scalability issues of the Ethereum network. The project previously operated as Matic Network before rebranding to Polygon to reflect its broader vision. Polygon provides a framework for building Ethereum-compatible blockchains, allowing developers to create and customize sidechains that are interoperable with the Ethereum mainnet. Polygon will roll out in 2024 a new architecture using ZK-rollups and Optimistic rollups for unlimited scalability. Polygon 2.0 is a significant upgrade that can make Polygon a more powerful and versatile platform to become a crucial part of the internet's infrastructure. MATIC price prediction forecasts a rising MATIC token to reach a maximum of $ 3.14 in 2024. It also notes its current bearish sentiment.
More on BTCS and ICO here:
Website: https://bitcoinspark.org/
Buy BTCS: https://network.bitcoinspark.org/register
Disclosure: This is a sponsored press release. Please do your research before buying any cryptocurrency or investing in any projects. Read the full disclosure here.
Photo by Kanchanara on Unsplash
The post MATIC and BTCS Prices Set To Skyrocket, Even if the U.S. and U.K. Continue Crypto Crackdown appeared first on The Merkle News.
SET UP ALERTS: Sign up for early email alerts on the top news and ICOs.
Link to source