Many investors around the world are looking to get significant profits from the crypto market. On that note, experts suggest Solana (SOL), Bitcoin Spark (BTCS), and XRP should be on your 'get rich' list.
Why did Solana crash?
In the 2022 crypto bear market, Solana (SOL) suffered a severe blow, plunging further than many other digital currencies. The primary catalyst behind Solana's crash was the abrupt downfall of FTX in November 2022. The exchange and its associated trading firm, Alameda Research, were prominent supporters of the Solana project, holding more than 50.5 million SOL tokens. Therefore, when FTX and Alameda Research were compelled to declare bankruptcy due to fraudulent activities, the exposure of their deceitful practices shattered investor trust in Solana, leading to a substantial decline in its value.
However, Solana (SOL) has shown significant signs of recovery. It still ranks among the top 10 cryptocurrencies in market cap and has seen increasing decentralized applications (dApps) and projects being built on its blockchain. Notably, the Solana network recently witnessed a trading volume close to $1 billion, with the SOL price surging by around 25%.
What is XRP?
XRP is a cryptocurrency that was created by Ripple Labs to provide fast and cost-effective international money transfers. XRP utilizes a unique consensus mechanism known as the Ripple Protocol Consensus Algorithm (RPCA), which allows for swift confirmation of transactions at low fees. XRP has garnered attention for Ripple's partnerships with major financial institutions and banks, as it offers a potential solution for reducing the time and cost associated with cross-border payments.
What is Bitcoin Spark?
Bitcoin Spark is an emerging blockchain platform that introduces a host of innovative features designed to bring a new age of digital transactions. It boasts exceptional individual block transaction capabilities, a low block time, and a vast network of nodes, which translates into lightning-fast transaction processing and minimal gas fees for users.
Additionally, the Bitcoin Spark network has a multiple-layered design with a seamlessly integrated smart contract layer. Within the smart contract layer, there are separate execution systems that all converge on the main network, providing developers the flexibility to utilize a wide spectrum of programming languages. This versatility positions Bitcoin Spark as an ideal platform for constructing and executing a diverse array of smart contracts and decentralized applications (DApps).
The most groundbreaking feature of Bitcoin Spark is its Proof-of-Process (PoP) consensus mechanism, which blends decentralization with real-world utility. PoP mandates that users contribute processing power to the network to validate transactions and earn rewards. Remarkably, this mechanism employs a non-linear rewards functionality, where rewards decrease proportionally with additional processing power. This ensures a fairer distribution of rewards, which, coupled with the network's vast node infrastructure, enables even individuals with low-powered devices to actively participate in the validation process. To enhance accessibility, the Bitcoin Spark team is set to launch a user-friendly and secure network validation application compatible with a number of operating systems, including Windows, iOS, and Android.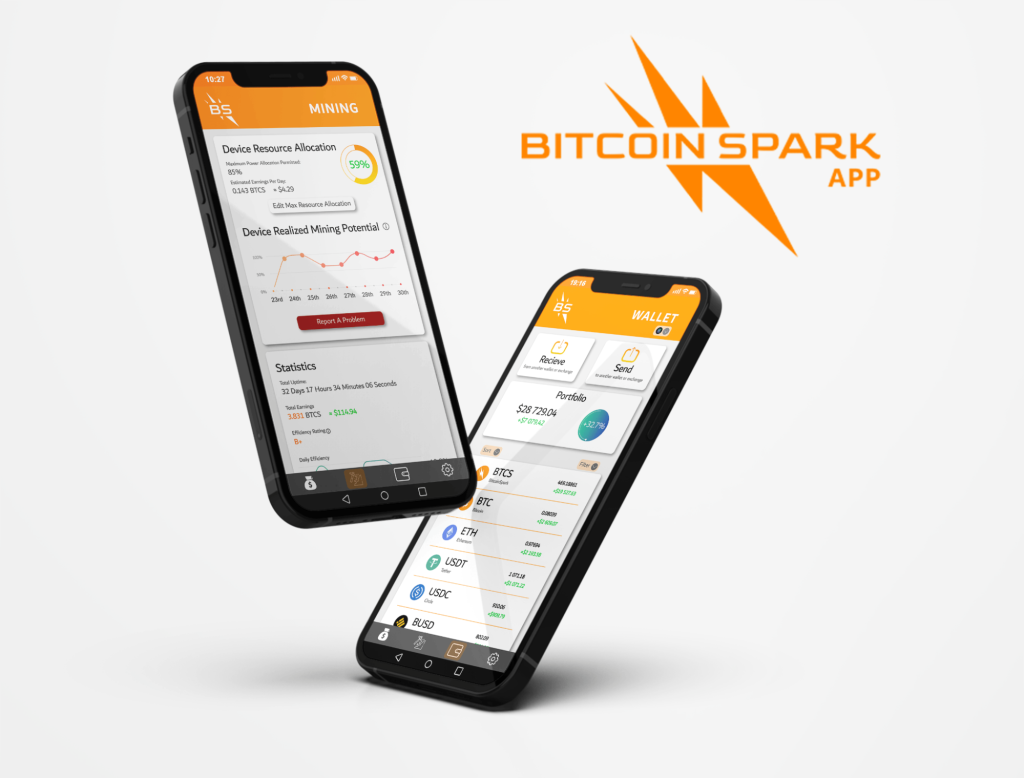 The power contributed by validators will be made available for rent to individuals and institutions in need of remote computing resources, with payments required in the native BTCS token. The revenue generated will be shared among validators, helping them gain profit from otherwise dormant power while providing Bitcoin Spark with a unique use in the real world.
Additionally, Bitcoin Spark will feature advertising spaces on its application and website, subject to community governance and paid for using BTCS. Half of the generated advertising revenue, along with supplementary incentives, will be distributed to network participants, further enhancing the platform's attractiveness.
Notably, Bitcoin Spark has a limited supply of 21 million BTCS coins, like Bitcoin (BTC). 19.05% of the supply has been allocated to an Initial Coin Offering (ICO). BTCS will launch at $10, but the ICO is currently in Phase 7 of 10, selling BTCS at $3.00 and offering a 7% bonus, among other benefits.
For more on Bitcoin Spark and its ICO:
Website: https://bitcoinspark.org/
Buy BTCS: https://network.bitcoinspark.org/register
Disclosure: This is a sponsored press release. Please do your research before buying any cryptocurrency or investing in any projects. Read the full disclosure here.
Photo by Kanchanara on Unsplash
The post Solana, Bitcoin Spark And XRP Should Be On Your 'Get Rich' List appeared first on The Merkle News.
SET UP ALERTS: Sign up for early email alerts on the top news and ICOs.
Link to source