A new era is dawning in the evolving crypto landscape, marked by the impressive rise of digital assets like Bitcoin Spark (BTCS), Celo (CELO), and Bitcoin Gold (BTG).
What is Bitcoin Spark?
Bitcoin Spark is an emerging blockchain that was inspired by Satoshi Nakamoto, and as such, it has some similarities with Bitcoin (BTC), including a limited supply of 21 million coins. However, Bitcoin Spark introduces groundbreaking features and technologies aimed at creating a new generation of digital transactions.
The blockchain pioneers decentralized CPU and GPU rental through its proprietary consensus mechanism, the Proof-of-Process (PoP). The PoP requires users to provide processing power to the network in order to validate transactions and earn rewards. However, this innovative mechanism exponentially reduces the rewards as additional power is provided, creating a fairer distribution system. Additionally, the Bitcoin Spark network is built with a vast number of nodes, which, coupled with the nonlinearity of rewards, will ensure low-powered devices can participate in the network. To complement this, the network's native application will enable seamless participation for users with Windows, iOS, macOS, Linux, and Android devices.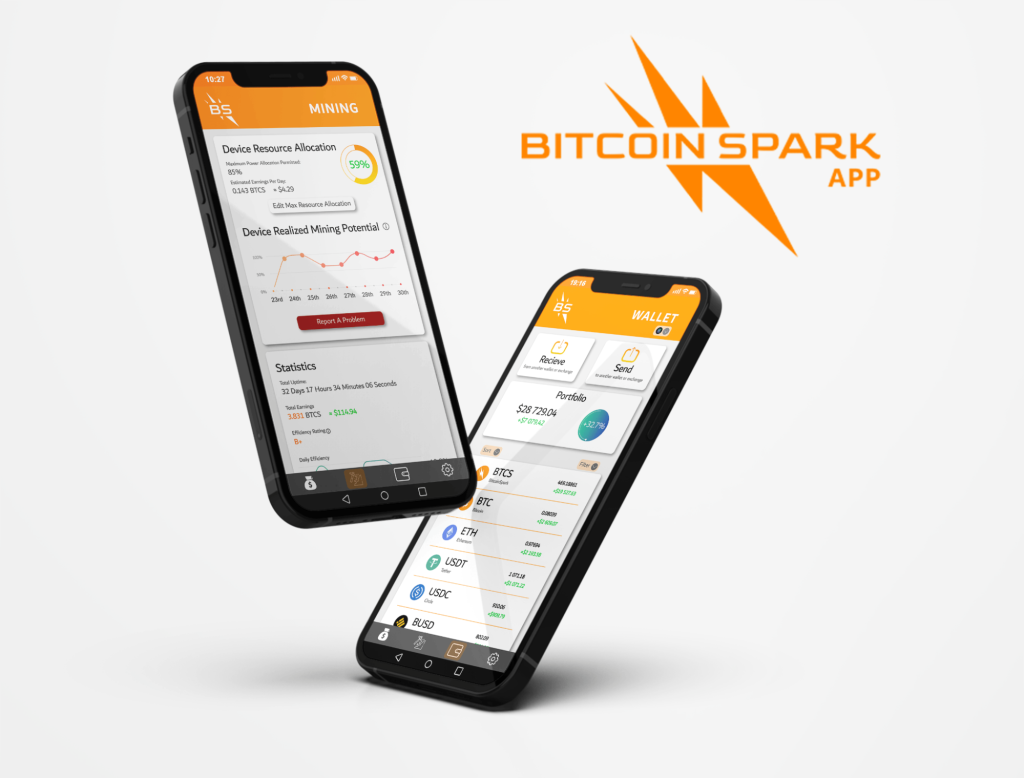 The power contributed by validators will then be made available for rent to individuals and institutions performing high CPU/GPU intensive tasks through Bitcoin Spark, with payments required in BTCS, the network's native token. Network validators will receive 97% of the generated revenue plus minted BTCS and transaction fees from validated blocks. The 3% will go to the team for maintenance and development, creating a sustainable ecosystem.
Additionally, Bitcoin Spark's application and blockchain explorer are set to include unobtrusive advertising spaces, which will be community-policied to maintain security and decentralization. The ads will also be paid for in BTCS, and the revenue generated will be shared between the development team and network participants, who will also receive extra incentives for policing the ads.
Furthermore, Bitcoin Spark provides a robust network for developing and utilizing decentralized applications (dApps). It has a dedicated and seamlessly integrated smart contract layer with multiple execution systems, all reaching finality on the main network. This infrastructure ensures scalability and enables developers to use a wide range of programming languages, promoting diversity. Going further, the network's massive nodes are combined with short block times and high individual block transaction capabilities, resulting in fast transaction processing and low fees for users.
Notably, Bitcoin Spark (BTCS) is set to officially launch in November at $10 but is currently selling at $3.25 with a 6% bonus in the third to last phase of its Initial Coin Offering (ICO). The project has passed multiple audits and received many positive reviews, suggesting significant potential.
What is Celo?
Celo is a blockchain that positions itself as a global payment network tailored specifically for mobile users. Its fundamental objective is to democratize financial activities and make them accessible to individuals globally by enabling payments to be sent to and from any phone number in the world. Additionally, Celo supports the development of decentralized applications, fostering innovation and creativity within its ecosystem. At the heart of Celo's operations are two native tokens: CELO, a governance asset empowering the community to vote on protocol changes, and Celo Dollars (cUSD), a stablecoin pegged to the US dollar, providing stability and reliability to users.
Bitcoin Gold price prediction
Bitcoin Gold (BTG) has been pumping, with its price up over 10% from October 16th lows. Born out of a mission to democratize crypto mining, Bitcoin Gold's inception through a hard fork from Bitcoin in October 2017 emphasized inclusivity. And despite ASIC miners and reputation hurdles, BTG continues to capture the attention of cryptocurrency enthusiasts and investors. The trading volume for BTG recently witnessed an impressive 145% increase as investors eagerly acquire coins, anticipating a continued upward trajectory. Analysts, considering the current market conditions and technical indicators, are optimistic, suggesting Bitcoin Gold's price may continue its upward trajectory.
Conclusion
As we move forward, it becomes evident that the golden crypto era, led by Bitcoin Spark (BTCS), Celo (CELO), and Bitcoin Gold (BTG), symbolizes not just a surge in prices but a paradigm shift towards decentralized, accessible, and equitable financial systems.
For more information on Bitcoin Spark and its ICO:
Website: https://bitcoinspark.org/
Buy BTCS: https://network.bitcoinspark.org/register
Disclosure: This is a sponsored press release. Please do your research before buying any cryptocurrency or investing in any projects. Read the full disclosure here.
Photo by rc.xyz NFT gallery on Unsplash
The post The Golden Era with Bitcoin Spark, Celo, and Bitcoin Gold's Rise appeared first on The Merkle News.
SET UP ALERTS: Sign up for early email alerts on the top news and ICOs.
Link to source